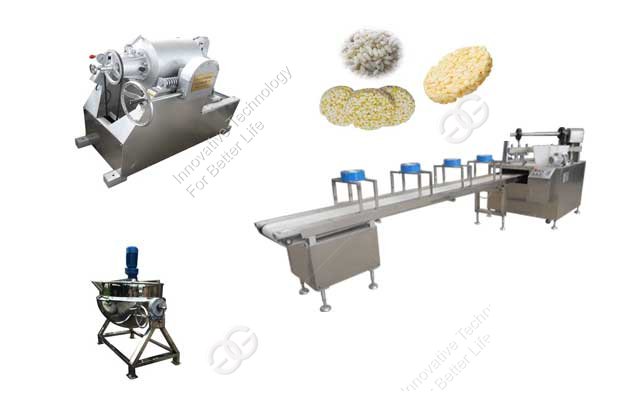 This
cereal bar production line
consist of rice air flow puffing machine, sugar cooking pot,temperature control nonstick mixer, automatic molding machine and pillow type packing machine.
Puffing machine: it can used to material with starch such as rice, millet, wheat, highland barley, buckwheat, corn, sorghum, sweet barley and beans can be puffed. Sugar cooking pot machine is mainly used for candy, rice crisp, beverage, pharmaceutical and other processing, its function is making syrup for making crispy candy.
Mixer machine is mainly used for crisp egg cakes, rice crisp, frozen swelled candy rice etc recreation food agitation. Its function here is mixing puffed product and cooking sugar.
Cereal bar molding machine is mainly used for rice, wheat pass, frozen swelled candy rice, eggs, sweet potato cakes and other foods forming different shapes. It is main machine in this line. Last machine is pillow packing machine, which is used to pack molding crisp candy into bag.
Features:
1. turntable covers an area of small, up and down the cooling
2. No gas source, mechanical cam indexing drive, stamping molding
3. Mechanical positioning, the circuit is simple, easy maintenance
4. Replace the template, die convenient, can produce round cake, round bar, spherical, box-shaped and other shapes of food

There is cereal bar making machine working video