How Produce Peanut Brittle?
1,The pot into the sugar and water, heating sugar, in order to prevent the sugar in the supersaturated solution appears in the grain and affect the quality of the product and keep the product color and transparent color, to be fully dissolved, that is, adding chemical jelly.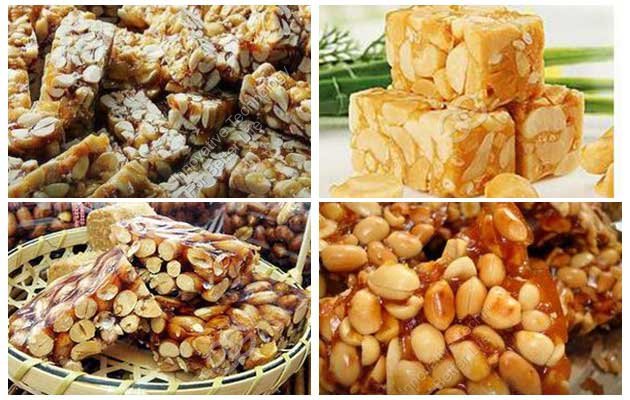 2,In order to ensure that the product is clean and hygienic, no impurities, the melted sugar solution into the other sugar pot, still continue to heat.
3,Boil sugar should pay attention to stirring, so as to avoid the phenomenon of pudding, until the temperature reached 135 ℃, due to water evaporation, sugar solution to form a syrup, the color is yellow, ritual and pull the filament, that is, adding large oil, the purpose is So that products crisp, shiny. Stir evenly until the temperature reached 160 ℃ when the move away from the fire.
4,Boil sugar pot away from the fire, immediately into the pot into the cooked peanuts quickly stir, while cooling the side of the folding sugar, so that peanuts and sugar mixed evenly and remove the sandwiched air. And then moved to the crime table to roll open, divided into four equal parts.
5,With the machine tablet, cut, intends to adjust the thickness in advance to ensure that the candy specifications consistent.
6,In the candy cooling process, to break apart the degree of adhesion of sugar blocks, and with a sieve to the small pieces of slag, until the product cool thoroughly, you can carry out packaging.

If you want do peanut brittle business,first,you can have the peanut brittle production line. if you need the peanut brittle production line,you can leave the message in our website.